Every one is always skeptical when a sequel is released, wondering if it can hold its own compared to the original film. I'm happy to report Frozen 2 doesn't disappoint! I was surprised with how many laugh-out-loud moments are included… Olaf wins the award for hilarious lines!
Synopsis
Why was Elsa born with magical powers? The answer is calling her and threatening her kingdom. Together with Anna, Kristoff, Olaf and Sven, she'll set out on a dangerous but remarkable journey. In "Frozen," Elsa feared her powers were too much for the world. In "Frozen 2," she must hope they are enough. From the Academy Award®-winning team—directors Jennifer Lee and Chris Buck, producer Peter Del Vecho and songwriters Kristen Anderson-Lopez and Robert Lopez—and featuring the voices of Idina Menzel, Kristen Bell, Jonathan Groff and Josh Gad, Walt Disney Animation Studios' "Frozen 2" opens in U.S. theaters on Nov. 22, 2019.
Review
The adventurous storyline is a bit on the predictable side; Anna & Elsa leave Arendelle when trouble arises, Elsa battles the elements that get in the way, the sisters save Arendelle and have a happy ending. What makes the film enjoyable is the humor, music, new characters and side stories.
Olaf is over-the-top hysterical with his hilarious lines – my daughter is already repeating several of them. Kristoff, in his awkwardness, makes several failed attempts to propose to Anna, yet each try leaves you laughing.
Olaf learns about adapting to change while you're growing up and even sings a song, When I Am Older, while exploring the enchanted (and creepy) woods by himself.
Kristoff also gets his own song, Lost in the Woods, which had the entire audience laughing because of it's 80s music video style – it literally sounds like a song Chicago would have performed – it was my favorite!
Elsa's song, Into the Unknown, is enjoyable to listen to – I repeat, listen. I really hope little girls don't try belting it out like they did when Let it Go was so popular. With all the trilling happening in Into the Unknown, most people will butcher the song.
Overall the film is very entertaining, the visual graphics are excellent, and the music is wonderful.
The Child Factor
Frozen 2 is a family-friendly film with very little disturbing factors. There are brief flashbacks to battle scenes – but nothing gory – I'd say scenes from Mulan are more "intimidating." There are Stone Giants who are portrayed as aggressive, so very young children may find them a little scary. The film does not contain any bad language – although there are a few quick mentions of "potty humor" by Olaf. Finally, "Wind, Fire, Water & Earth" are mentioned as spirits – which are the elements Elsa must tame throughout her journey. This gives off slight 'New Age' connotations, but the majority of viewers already know Elsa has magical powers – these elements play into the theme of this fictional story.
Stay through the Credits? YES!
Without spoiling it… definitely sit through the credits for a final, hilarious scene brought to you by Olaf – and his surprise audience!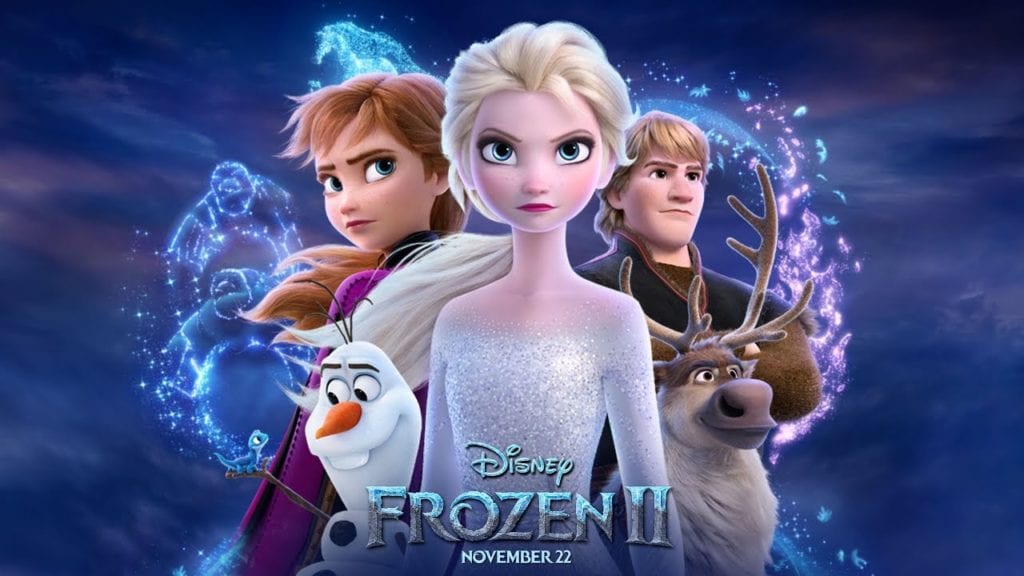 I was given early access to view Frozen 2 before its theatrical release, in exchange for an honest review. No other compensation was received.